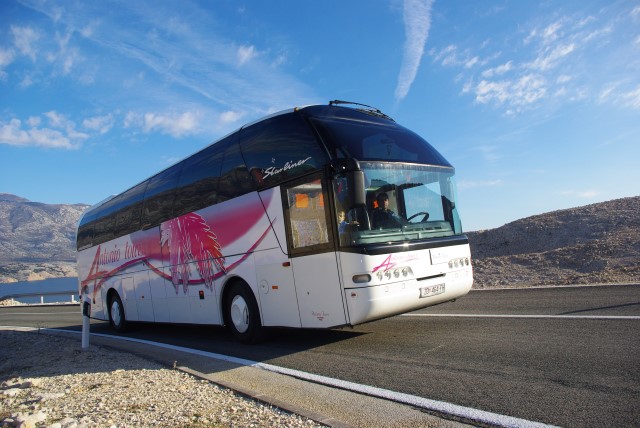 The town of Pag can be reached by bus from two directions: over the Pag Bridge or by taking the Prizna-Žigljen ferry. The bus station in Pag is close to town centre, at the former ferry dock. The Pagus and Meridijan HotelsBarcarola Tavern, Mediteran Travel Agency and Meridijan 15 are within 50 meters of the bus stop, along with other facilities.
Transit Connections
There are year-round bus lines connecting Pag to Novalja, Zadar, Split, Zagreb, Senj, and Rijeka.
Local and town lines
There are no urban transit lines in Pag, the sole exception being a tourist train that runs the entire length of the town. Pag is connected by local lines to Povljana, Kolan, Gorica, Dinjiška, Vlašići, Miškovići, Stara Vas, and the town of Novalja.
INFORMATION
- Antonio Tours - www.antoniotours.hr
- Autotrans - www.autorans.hr
- Bus station - www.autobusni-kolodvor.com
- AP Varaždin- www.ap.hr
DISTANCES
PAG - ZAGREB = 315,00 km
PAG - ZADAR = 50,00 km
PAG - SPLIT = 199,00 km
PAG - RIJEKA = 142,00 km