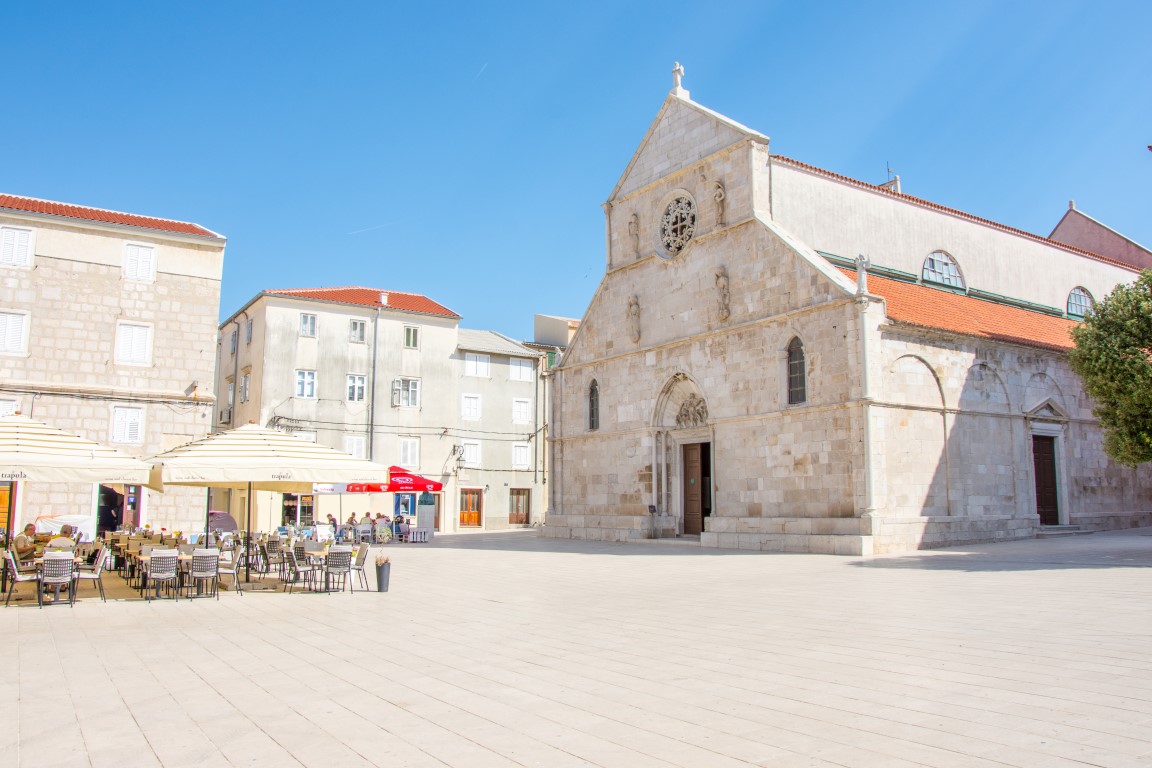 The Church of the Assumption of the Blessed Virgin Mary is situated on the main town square and is the most valuable monument of ecclesiastical architecture in Pag. The cornerstone was laid on 18 May 1443, marking the commencement of its long-lasting construction.
It was constructed by master-builders from Šibenik and Zadar. The sources confirm the names of Juraj Dalmatinac and Zadar architects Pavao Juraj Dimitrov, Marko Andrijić and Nikola Alegreti. The portal's lunette has great artistic value and was probably made by Ivan Pribislavić or Petar Berčić.
In canonical terms, the church is collegiate, and to this day it has a college of canons headed by the chapter archpriest with the title mitred abbot of St. Peter, held over from the ancient Monastery of St. Peter the Apostle at Prosika.
The façade of the church repeats the Romanesque-Gothic contours of the college seat in the Old Town. A rich stone rosette, relief images of Sts. George and Michael and a composition of the Annunciation of Mary are notable on the actual façade. The Madonna is portrayed in the portal's lunette, protecting the pious natives of Pag with her mantle. The church has five marble altars installed in the 18th and 19th centuries. Particularly notable is the large altar pall showing the Madonna, St. Dominic with St. Catherine of Sienna and the known participants in the Battle of Lepanto. This picture has high artistic value, and according to the records from the Archives of St. Dominic in Zadar, it has been attributed to the renowned Venetian painter Tintoretto. The Holy Cross, a wooden Gothic crucifix, is revered there; according to a document from 1413 held in Pag's Register of Charters, blood once flowed from it. The crucifix from the former Church of the Holy Cross in the Old Town was brought to the Dominican church in Pag's new town, while in the 19th century is was moved to the collegiate seat in Pag.