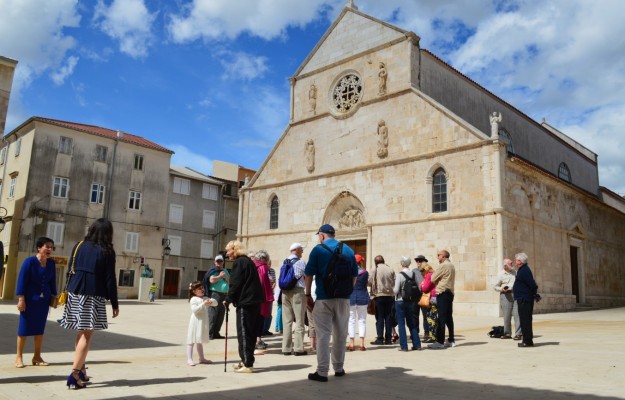 DISCOVER THE WONDERS OF THE RENAISSANCE CITY OF LACE AND SALT, THE CITY WHERE THE ANCIENT AUSTRIANS, THE VENETIANS AND THE FRENCH HAD LEFT THEIR TRACES. TAKE A LOOK AT THE LONG AND RICH TRADITION OF THE ISLAND THAT HAS BEEN CHERISHED FOR CENTURIES: THE FAMOUS LACE THAT IS THE PEARL OF THE MEDITERRANEAN TEXTILE HANDICRAFTS, ROCKY LANDSCAPE THAT RESEMBLES A LUNAR LANDSCAPE AND THE "WHITE GOLD" OF THE TOWN OF PAG - SALT.
---
Following the trace of tradition, we start our tour at 09:00 by gathering on the old waterfront where there is an exhibition of salt production, which begins the story of our city. After the exhibition we will cross the bridge that connects us to the centre of the town and leads to the main square where the Mary's Assumption Congregation Church and The Duke's Palace are situated. Nowadays they are a place where a number of events is being held. In The Duke's palace we will visit the Gallery of Pag lace which is the most wonderful pearl of the town. Then we will visit to the exhibition dedicated to Bartol Kaš ic, the father of Croatian grammar.
After that, we will visit The Mary's Assumption Congregation Church and the exhibition Seven Centuries of Benedictine Nuns in Pag which includes tasting baš kotin, town's unique edible souvenir. After the tasting, we will see the Tower Skrivanat and hear the story of the only
remaining tower out of nine, which used to protect the city from the attacks. Afterwards we will take a stroll to where we had started; where the transportation to the Old Town will wait for us so we can take the tour to St. Mary's Church and the remains of the Franciscan monastery.
Minimum number of people is 4
• Reservation required 48 hours prior to departure
• Duration: 3 hours
• Language: English
Departures and availability:
• All tickets and fees
• Professional guide
• Tasting of baš kotin
INFO
W. www.pagtours.eu
E. This email address is being protected from spambots. You need JavaScript enabled to view it.
T. +385 91 422 8868