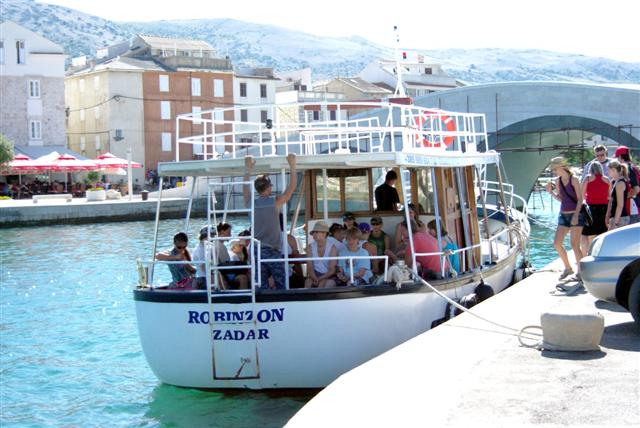 All you need for a "Robinson" day excursion is willingness and bathing accessories. Leave the rest to your captain, Neli Rumora, one of the pioneers of the Robinson tourism on the Adriatic coast, beginning in 1986. 30 minutes after departure (at 9:30 a.m.), the boat stops by Rozin Bok Beach for swimming. Our next 30-minute stop is at the fishing village of Metajna. Next is a visit to Zaglava Beach, with natural shade where a traditional fisher's lunch is prepared and you are more than welcome to join in its preparation.
The menu includes :
- home-made herb brandy as an aperitif
- grilled mackerel with olive oil, garlic and parsley
- wine and juice

And it all comes in unlimited quantities!
After lunch, you'll pass by the 260 m high Beritnica Cliffs, the home of the griffon vulture, whose wing span is 2.5-3 meters. Since the birds fly high and far, there is no guarantee you will actually get to see them. We'll then take you to Paška Vrata (Pag Gate), with a number of caves and underwater tunnels with unspoiled wildlife: coral, fish, shellfish, and more. You can swim or dive from the cliffs and, if you have your snorkel and flippers, you'll have a complete experience. Our next stop is at the islet of Maškalic, where you can taste shellfish. The return to Pag is scheduled for between 6 and 7 p.m.
Information
M. +385 98 968 4710
E. This email address is being protected from spambots. You need JavaScript enabled to view it.